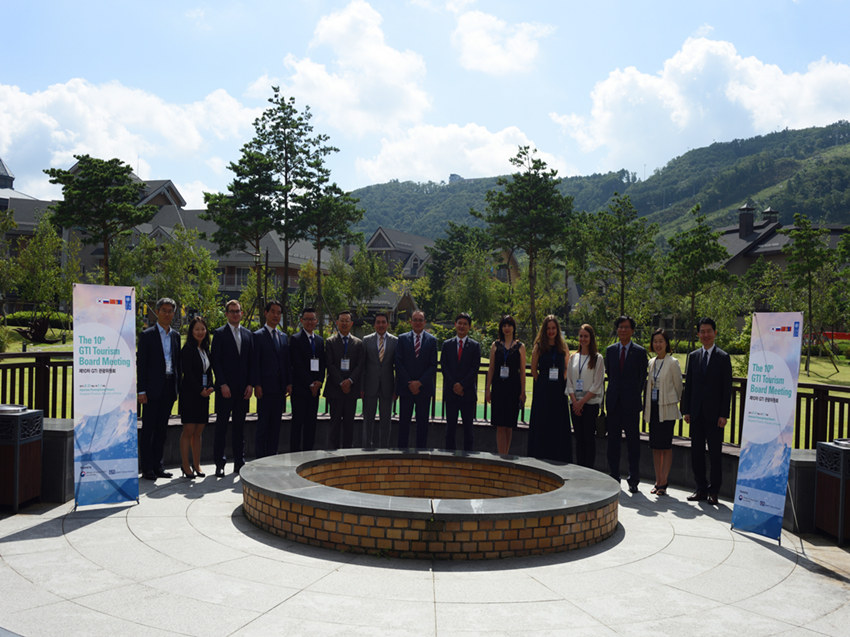 The 10th GTI Tourism Board Meeting, co-organized by GTI Secretariat the Ministry of Culture, Sports and Tourism of ROK and hosted by Gangwon Province, was held on 31st August 2017 in Pyeongchang Alpensia Resort, ROK.
The Members of the GTI Tourism Board discussed the progress of GTI tourism cooperation since the 9th TB meeting (August 2016, China), elaborated on the projects for the implementation under GTI, and approved the working plan for 2017-2018. The meeting concentrated in particular on the following project proposals: Seminar on Managing Tourism Destinations – Strategies and Actions for Success, Development of Tourism Statistics and Tourism Satellite Account, Collective exposition of the GTI member countries at the XXII Pacific International Tourism Expo, and Web-site on Tourism of GTI. The Board confirmed the importance of the proposed projects which go in line with the priority areas of cooperation within GTR. The project proposals will be further interiorly discussed by each member country for final decision on their feasibility.
The board members came to a consensus that with coordination from the GTI Secretariat they should further cooperate in such fields as marketing promotion of tourism products in the GTI region, raising the profile of GTI as a brand at the international platforms such as ITB Berlin-2018, and development of the regional statistical database.
The GTI Secretariat invited the members to the UNWTO/GTI meeting on Marketing and Promotion Opportunities for the Greater Tumen Region – Gateway to North-East Asia which will be held as a side event of 22nd Session of the UNWTO General Assembly on 11 September 2017 in Chengdu, China.
Members of the GTI Tourism Board, representatives from the Culture, Tourism, and Sports Bureau of Gangwon Province, GTI Secretariat, Tourist Information Center of Primorsky Territory, Korea Tourism Organization and Primorsky Krai Development Corporation JSC attended the meeting.
The 11th Tourism Board Meeting will be held in Vladivostok, Russia, in May 2018 in the framework of the IV Pacific Tourism Forum.