The Korea Customs Service in cooperation with the GTI Secretariat organized the 5th GTI Trade Facilitation Capacity Building Workshop on 24-28 OCT 2016 in Seoul, Republic of Korea. The Workshop has been organized since 2012 for the customs officials of the GTI member countries to share knowledge and experience with other experts from international organizations, local governments, academia, etc. to seek for opportunities for further cooperation activities related to trade facilitation in the Greater Tumen Region (GTR).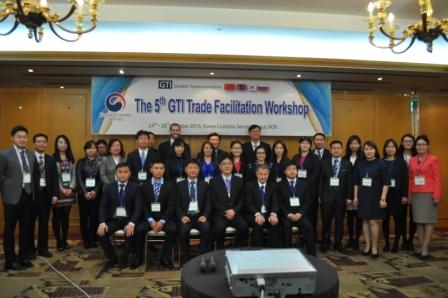 This year, the Workshop mainly focused on two specific issues: 1) Standardization in Trade Facilitation and 2) Paperless Trade for Better Risk Management. Additionally, the participants shared the latest trade policies from the international organizations (e.g. WCO, UNESCAP, GIZ, UNIDO, Andean Community, SAARC), local governments (e.g. Dornod, Gangwon, Busan), private sector and so on, and exchanged insights on trade facilitation in the North East Asia (NEA).
The participants had in-depth discussions and provided policy recommendations and joint project ideas to the GTI member countries, which include 1) designing a workshop on specific topic of customs issues (ex. Cross-border, AEO, Single-Window, Customs rules, Business process of national level), 2) developing transportation in GTR by cooperating with international institutions (e.g. ADB, AIIB, GIZ), using PPP (public and private partnership) and establishing cross border economic zone, 3) improving efficient transit and customs clearance by using internationally standardized documents, organizing an annual meeting among the GTI member countries and connecting all the breakpoints in the railway systems in GTR, and 4) accelerating AEO (Authorized Economic Operators) MRAs (Mutual Recognition Agreements) cooperation among the GTI member countries by considering different maturity level of AEO programs each other.
The GTI Secretariat will share the result of the Workshop and try to develop joint project proposals with the customs authorities of the GTI member countries and other partners.