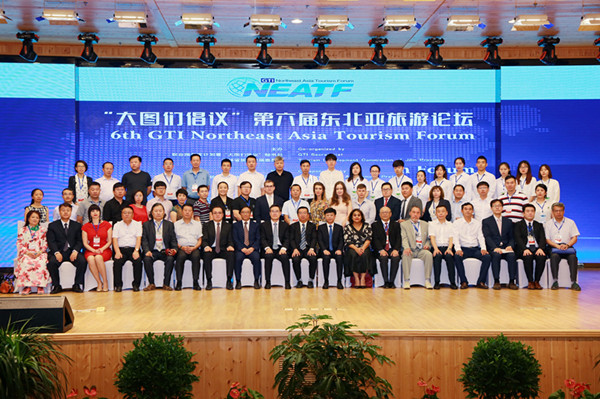 Co-organized by the GTI Secretariat, Tourism Development Commission of Jilin Province and Yanbian Korean Autonomous Prefecture Government the 6th GTI NEA Tourism Forum took place in Hunchun, China, on 27th July 2017.
The welcoming speech delivered by Mr. Zhang Jifeng, Deputy Party Secretary and Mayor of Hunchun, was followed by opening remarks by high-level officials from Yanbian Korean Autonomous Prefecture, Tourism Development Commission of Jilin Province, China National Tourism Administration as well as Director of the GTI Secretariat Mr. Tuguldur Baajiikhuu and UN World Tourism Organization (UNWTO)'s Programme Manager Ms. Vanessa Satur.
The Director of GTI highlighted the potential for establishing financially viable cross-border tourism routes in the Greater Tumen Region (GTR) which possesses diverse resources that appeal to both regional and international tourism markets and expressed hope that the combination of quality products in sustainable tourism and targeted marketing can result in the region becoming one of the most desirable international destinations in the world.
Mr. B. Tuguldur also stated that the GTI member countries' enthusiasm for tourism cooperation keeps increasing both on central and local levels since tourism was recognized as priority area of cooperation by the GTI Local Governments of the GTI Local Cooperation Committee (LCC).
The Forum went over with participants' presentations followed by Q&A from the audience.
The First Session was devoted to the policy directions and strategies of the GTI member countries for development of tourism. The key-note speaker of this session Ms. Vanessa Satur (UNWTO) gave an overview of the Tourism Development Trends in NEA and stressed both advantages and challenges of the NEA's tourism. Officials from the governments of Mongolia and Russia shared the latest developments in tourism sector of their countries.
A separate session (2) was organized to discuss the potential of sea/sea-land tourism in GTR. Representatives from Economic Research Institute for North-East Asia (ERINA), professors of Jilin University and Dalian Ocean University as well as Deputy Director-General of OOO "Vladivostok Maritime Terminal" and Director of the International Institute of Tourism and Hospitality of Vladivostok State University of Economics and Service shared perspectives and potential benefits from the promotion of cruise and ferry tourism in the region.
During Session 3 speakers introduced concrete project ideas and tourism products. Thus Ms. Satur from UNWTO suggested two project ideas for joint implementation with GTI - Development of Tourism Statistics and Tourism Satellite Account and Development of Human Resources for Tourism. These ideas will be further formulated into project proposals and submitted to the GTI Tourism Board for consideration. This session also gave a chance for government officials, professors and managers from tourism agencies of China, Mongolia and Russia to present their tourism products in front of the Forum.
The 6th GTI NEA Tourism Forum marked itself as another milestone since its launch in 2012 by the GTI member states, proving to be an effective platform for promoting the potential for tourism development in the region and providing comprehensive exchanges on for addressing existing problems and bottlenecks in tourism development.