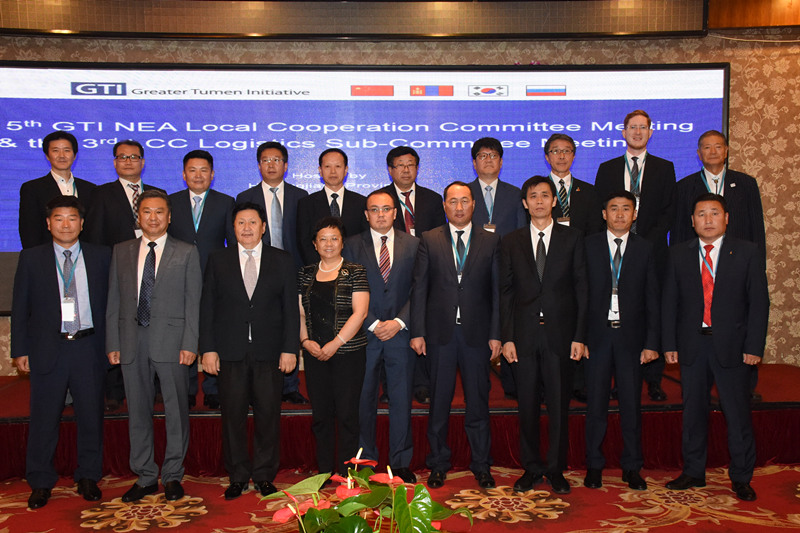 The 5th GTI NEA Local Cooperation Committee (LCC) Meeting and the 3rd LCC Logistics Sub-Committee (LSC) Meeting was concluded on 16 August 2017 at Heihe City, Heilongjiang Province, the People's Republic of China. The meeting was hosted by the People's Government of Heilongjiang Province, in collaboration with the GTI Secretariat, with the aim to review the progress of LCC activities, discuss project proposals and project ideas proposed by LCC Members.
The meeting began with welcoming remarks by Ms. Jia Yumen, Vice Governor of Heilongjiang Province and Mr. Xie Baolu, Mayor of Heihe City. Mr. Tuguldur Baajiikhuu, on behalf of the GTI Secretariat, delivered an opening speech and chaired the 5th LCC Meeting. At the meeting, participants shared their perspectives on local cooperation; reviewed LCC's progress made since the 4th LCC Meeting, discussed and approved project proposals from Liaoning Province, Heilongjiang Province and Dornod Province, and welcomed Selenge Province to be a new member of the LCC. Attention was also paid to the partnership of the LCC with presentations or remarks by representatives from private sector, research institutions and international organizations. During the meeting, Tottori Prefecture confirmed that it would host the 6th LCC Meeting and circulate detailed meeting information in a due course.
The 3rd LSC Meeting was held in the second half of the day. During the meeting, the Report on the Development of the Ferry Routes of Jilin Province, the Report on the Pilot Route Testing Project and the Project Idea of the Transportation of Wood Pellet from Suifenhe to Donghae or Busan were reviewed by participants. The Information Sharing Sheet and the Logistics Data for Selected Sea-Land Routes were reviewed and their assessment forms were dicussed by all participants. With approval from all LSC members, Dornod Province and Inner Mongolia Autonomous Region gained accession to the LSC. Besides, the sequence of rotating chairmanship of the LSC was updated and the LSC Work Plan for 2017-2018 was adopted at the meeting. Representatives from LSC Partners such as the Economic Research Institute for Northeast Asia and the Yingkou Port Group Corp. also showed their insights on cross-border logistics cooperation.