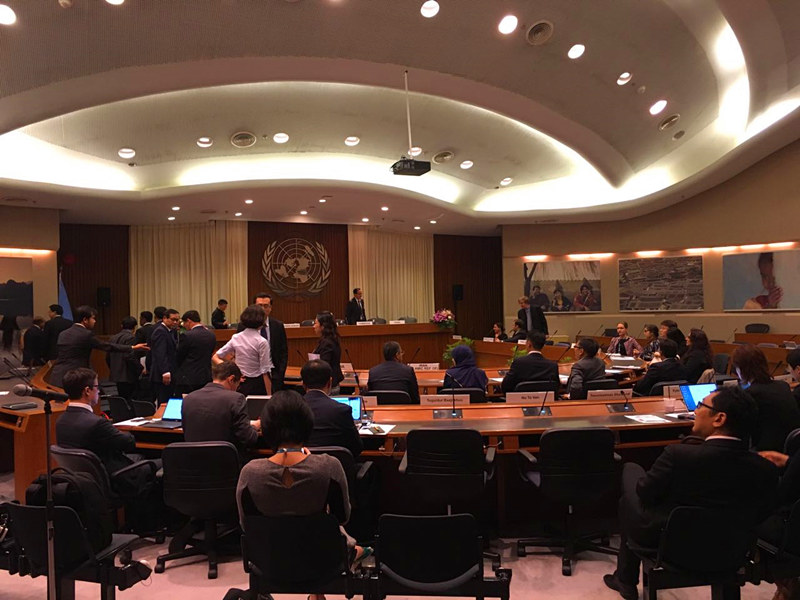 Bangkok – High-level Dialogue on Enhancing Regional Trade through Effective Participation in the Digital Economy ("the Dialogue") and Workshop on Facilitation of Trade in Northeast Asia through Paperless Trade ("the Workshop") was convened from August 29 to 30, 2017, in Bangkok, Thailand. The events were organized by United Nations Economic and Social Commission for Asia and the Pacific (UNESCAP) in cooperation with Greater Tumen Initiative (GTI) with the support of United Nations Network of Experts for Paperless Trade and Transport in Asia and the Pacific (UNNExt).
While the Dialogue was to assess new regional trade opportunities a digital economy and discuss how to address challenges in development of digital trade in the region, the Workshop was to review findings from a cross-border business process analysis study carried out on Mongolian trade and transit with the People's Republic of China, Republic of Korea, and the Russian Federation, including existing issues and recommended actions for improvement.
During the Dialogue, Mr. B. Tuguldur, Director of GTI Secretariat, participated in the panel for the Dialogue and one of the highlights was that although having differences and variations in systems that support e-commerce, which impedes the expansion of regional and cross-border e-trade and e-commerce countries are making steps to synchronize systems beginning from policy commitments under GTI framework. He stressed out the importance of involvement of experienced development agencies, such as UNESCAP, as a coordinator and provider of capacity building platform for narrowing the technological and systemic gaps with the advanced players in the region, as well as those who are lagging behind in development and expansion of e-commerce emphasizing on continuous exchange between all stakeholders (i.e. leaders, laggers and development agency for streamlined progression).
During the Workshop, Mr. ROH Chanho, Consultant of GTI Secretariat, delivered a presentation to share GTI's role as a regional cross-border paperless trade platform in Northeast Asia. He also addressed potential values and challenges in cross-border paperless trade data exchange in the region, as well as GTI's efforts to improve regional trade facilitation further.
Besides, Signing Ceremony of Framework Agreement on Facilitation of Cross-border Paperless Trade in Asia and the Pacific ("the Framework Agreement") was held during the Dialogue. Since the Framework Agreement is the first regional agreement of this kind in pursuit of advanced trade facilitation measures, in particular for cross-border paperless trade, the GTI expects the Framework Agreement is expected to provide a new tool for more effective implementation of the WTO Trade Facilitation Agreement in the Asia-Pacific region, ultimately supporting the development of cross-border electronic commerce for the GTI members.