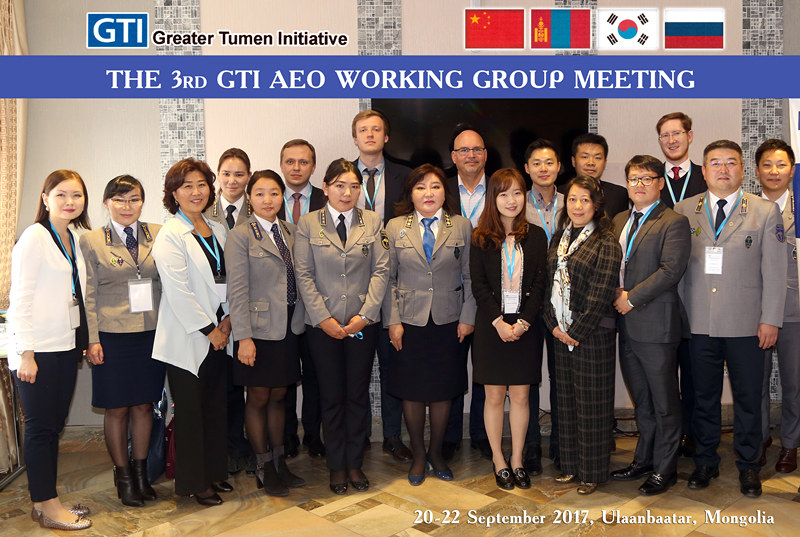 ULAANBAATAR – In cooperation with the Customs General Administration of Mongolia, the 3rd GTI AEO (Authorized Economic Operator)* Working Group Meeting was held in Ulaanbaatar, Mongolia during September 20-22, 2017.
The meeting aimed to accelerate the progress of development of AEO Mutual Recognition Arrangements (MRAs) among the GTI member states by drafting a standardized AEO MRA text among the customs authorities.
During the meeting, the participants brainstormed on how to coordinate different AEO programs of the GTI member countries and deepen AEO cooperation each other and developed the contents of the standardized AEO MRA text, which will further facilitate the increase of trade volumes while promoting AEO partnerships among the GTI member states.
Besides, two experts from the Deutsche Gesellschaft für Internationale Zusammenarbeit (GIZ) GmbH and the World Customs Organization (WCO) participated in the meeting respectively as a facilitator and a moderator. Their prominent experiences, diverse techniques, and approaches to customs cooperation supported the participants to actively engage in intensive discussion on activities and future direction of AEO cooperation as well as on the write-up of the standardized AEO MRA text.
The fourth meeting is expected to be held in December 2017 in Seoul, Republic of Korea, hosted by the Korea Customs Service and the GTI Secretariat.
*Authorized Economic Operator (AEO) is defined by the WCO SAFE Framework of Standards as a party involved in the international movement of goods, in whatever function, that has been approved by, or on behalf of, a national Customs administration as complying with WCO or equivalent supply chain security standards.