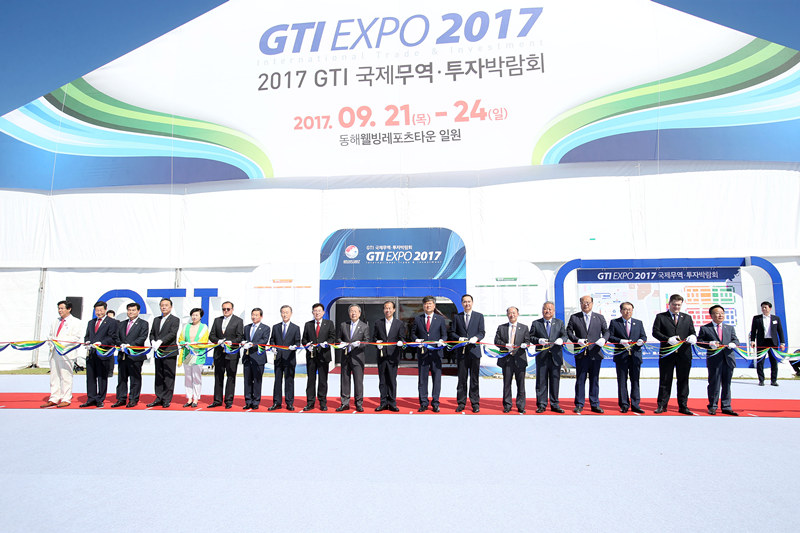 The 5th GTI International Trade and Investment EXPO was held on 21-24 September 2017 in Donghae City, Gangwon Province of ROK. Around 700 companies took part in the EXPO, Mr. Tuguldur Baajikhuu. Director of GTI Secretariat and Ms. Wang Weina, Senior Programme Officer took part in GTI Economic Cooperation Forum held in conjunction with the EXPO as well as attended EXPO's Opening Ceremony.
In June 2013 in Gangneung City, the Gangwon Province of ROK hosted the 1st GTI International Trade and Investment EXPO. With active engagement and cooperation among the GTI member countries, the EXPO attracted a huge number of private enterprises from both GTR and non-GTR region. 520 companies from more than 10 countries participated in the EXPO, and export contracts amounting 5.2 million USD were concluded during the EXPO. The 2nd EXPO held in October 2014 in Gangneung City created another successful story. 550 enterprises took part in the EXPO and export contracts, amounting 46.1 million USD were concluded on the spot. The 3rd EXPO and the 4th EXPO were organised in October 2015 and 2016 in Sokcho City. Around 650 companies took part in the EXPO and export contracts amounting 26 million USD and 66 million USD were concluded respectively during the 3rd and the 4th EXPO.
GTI Economic Cooperation Forum was informative and fruitful with presenting on development of economic zone infrastructures, perspectives of maritime cooperation and transport corridors, transport and logistics issues as well as comprehensive research into economic exchange flows within the region focusing on economic interdependence as a paradigm.
GTI International Trade and Investment EXPO proves to be a practical mechanism to boost trade ties within the Greater Tumen Region where producers, exporters, importers and investors had yet another opportunity to show-case their products and expand their networking, and where public, private sector and academia had elaborate discussion and information exchange on policies and business trends.