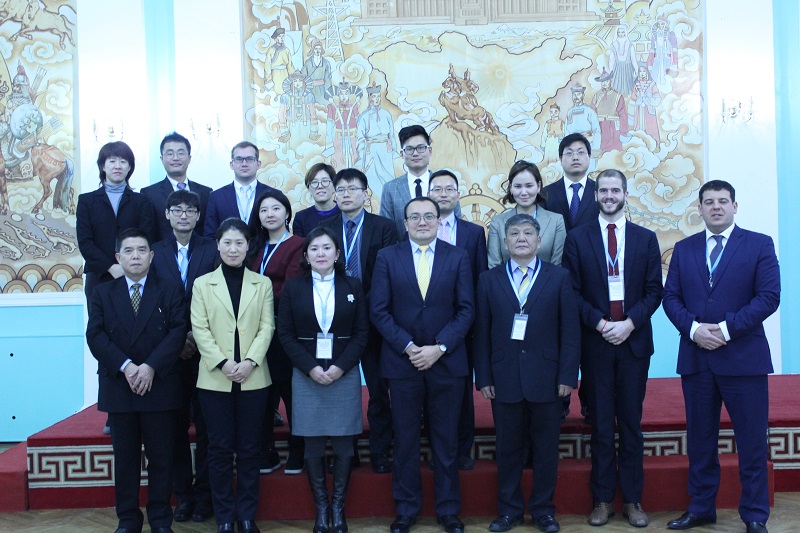 The 2nd GTI Customs Sub-Committee (CSC) Meeting was held on 16 NOV 2017 in Ulaanbaatar, Mongolia. The CSC members viewed the progress and achievement of CSC, shared information on trade facilitation efforts, and discussed project proposals and Work Plan 2018.
The participants acknowledged the outcomes made in CSC, including the implementation of the project "AEO Cooperation Scheme among Customs Administration" which is aimed at drafting a standardized AEO MRA (Mutual Recognition Arrangement) Text among the GTI member countries, and the project "Regional Seminar on GTI Cross-border Trade Facilitation and Single Window Implementation" organized on 12-13 APR 2017 with the supports from UNESCAP and the Vladivostok Branch of Russian Customs Academy. They also expected that during the upcoming Trade Facilitation Capacity Building Workshop (28-30 NOV 2017, Cheonan) hosted by the Korea Customs Service, the GTI member countries can further share information on AEO programs and have in-depth discussions to let the AEO cooperation keep moving forward.
The CSC members exchanged diverse information on their efforts in reforming customs policies, including paperless clearance, risk management, implementation of WTO TFA (Trade Facilitation Agreement), and so on. Through discussions, they found out that more capacity building and technical assistance need to be organized under CSC to accelerate knowledge sharing of best practices in customs domain.
As the chairing country of the 2nd CSC Meeting, the Customs General Administration of Mongolia presented a project proposal "Creation of a mechanism for exchanging pre-arrival information (including electronic exchange of manifests) among the Customs administrations of GTI Members". For the proposal, the participants decided to seek for an opportunity to closely cooperate with UNESCAP who has been conducting a project "Capacity building towards cross-border paperless trade for trade facilitation in Mongolia and East and Northeast Asia and Central Asia" which already has conducted BPA (Business Process Analysis) for the trades among the GTI member countries as its first phase and plans to organize a pilot test for exchanging electronic data or information (e.g. pre-arrival information including manifest) as the second phase.
Regarding the Work Plan 2018, the participants agreed with introducing quarterly video conference to intensify the communication among the CSC members all year round and strengthening the role of the chairing country in drafting project proposals and coordinating important agendas during her one year term.
The 3rd CSC Meeting will be hosted and chaired by the Federal Customs Service of the Russian Federation in 2018.