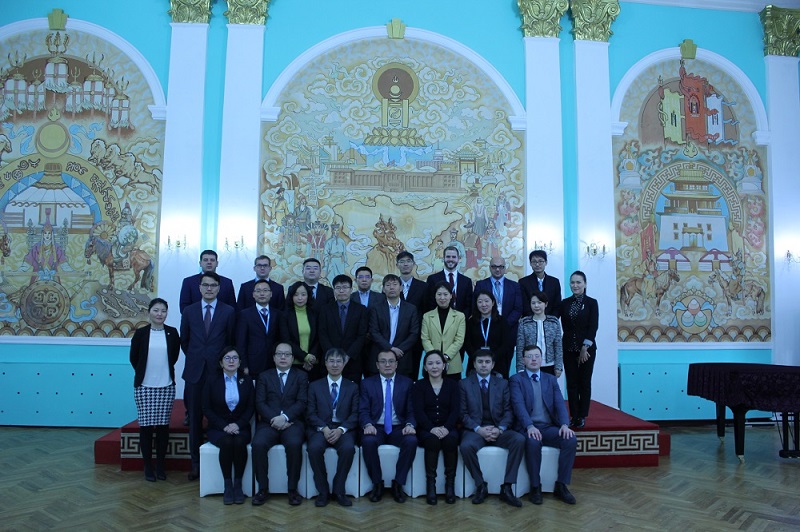 The 2nd GTI Trade and Investment Committee (TIC) Meeting was held on 17 NOV 2017 in Ulaanbaatar, Mongolia. The TIC members viewed the progress and achievement of TIC since its first meeting (14 DEC 2016, Incheon), shared information on trade and investment promotion efforts, and discussed project proposals and Work Plan 2018.
The TIC members welcomed the outcomes made under newly established TIC, including the institutional setting (approval of the Terms of Reference of TIC and the Roadmap for Trade and Investment Cooperation of GTI at the 17th GTI Consultative Commission Meeting on 29 JUN 2017, Moscow), the implementation of project "GTI Trade and Investment Cooperation Roundtable Meeting (30 AUG 2017, Changchun), and the successful organization of 5th GTI International Trade and Investment EXPO (21-24 SEP 2017, Donghae).
To raise awareness among the members and seek for opportunities for future cooperation in TIC, the participants shared information on their best practices in promoting trade and investment, including the innovation of new Customs Code, national strategy of opening market access for FDI (Foreign Direct Investment), organization of trade and investment EXPO, and others.
During the discussion on project proposals, the TIC members showed a strong commitment to actively participating in the implementation of the project "Study on the Soft Environment of Regional Supply Chain Connectivity" which was approved at the 17th GTI Consultative Commission Meeting and organizing further follow-up activities to reflect the recommendations from the GTI Trade and Investment Cooperation Roundtable Meeting. They also exchanged opinions on the potential topics for further organizing projects under TIC such as paperless trade (cooperation with UNESCAP's project "Capacity building towards cross-border paperless trade for trade facilitation in Mongolia and East and Northeast Asia and Central Asia"), FTA (Free Trade Agreement), e-commerce, AEO (Authorized Economic Operator), and so on. For the project "Promoting FDI in GTR (Greater Tumen Region) Research Project" proposed by the Russian Federation which is aimed at developing prospective projects and mechanisms aimed at promoting FDI in GTR, the participants decided to further review the details on the proposal later.
Regarding the Work Plan 2018, the participants, as the 2nd GTI Customs Sub-Committee Meeting (16 NOV 2017) did, generally agreed with introducing quarterly video conference to intensify the communication among the TIC members all year round and strengthening the role of the chairing country in leading the process in drafting project proposals and coordinating important agendas during her one year term.
The 3rd TIC Meeting will be hosted and chaired by the Ministry of Economic Development of the Russian Federation in 2018.