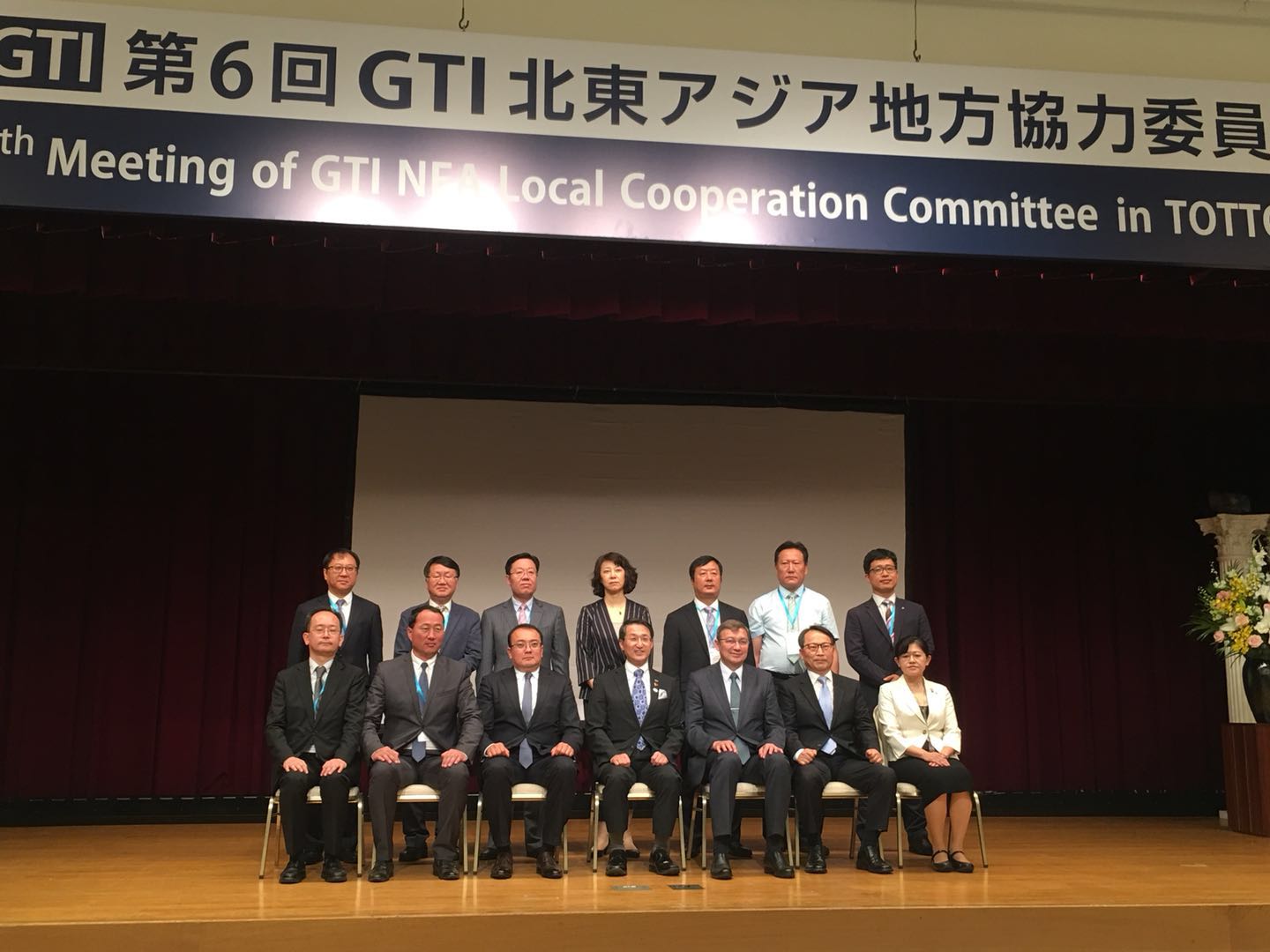 The 6th GTI NEA Local Cooperation Committee (LCC) Meeting, the 4th LCC Logistics Sub-Committee (LSC) Meeting, and the 5th Local Development Forum concluded with great success on 13th July 2018 in Tottori, Japan. The meeting aimed to review the progress of LCC activities, discuss project proposals and project ideas proposed by LCC Members and was hosted by Tottori Prefectural Government, in collaboration with the GTI Secretariat, with the participation of Governors of Dornod Province and Tottori Prefecture, senior officials from the central government of Republic of Korea, Jilin Province, Heilongjiang Province, Liaoning Province, Tottori Prefecture, Busan Metropolitan City, Gangwon Province, Inner Mongolia Autonomous Region, and representatives from private sector, research institutions and international organizations.
The event kicked off with the 5th Local Development Forum where representatives from across the board shed light on regional cooperation in GTR. Suggestions cover improving scientific research, engaging private sector to a larger extent, enhancing logistic routes safety and sustainability. Afterwards, with short welcoming remarks from Mr. Shinji Hirai, Governor of Tottori Prefecture Government, Mr. Tuguldur Baajiikhuu, Director of GTI Secretariat, and Mr. Myagmarsuren Badamsuren, Governor of Dornod Aimag, members were led to the 6th LCC meeting. During the meeting, members reviewed LCC's work since the last LCC meeting, shared their perspectives on developing the LCC platform based on the report of "Go Back to 2011", welcomed the promotion of the "Chita Logistics Hub" project initiated by Chita, Zabaykalsky Krai, Russian Federation, discussed the "Milk Run Logistics System" project by Busan Metropolitan City, Republic of Korea, and reviewed the Tottori Declaration. Representatives from private companies were also invited to address their proposals and projects.
During the 4th LSC meeting, progress report on LSC activities since the 3rd LSC meeting was reviewed, Assessment Form on Logistics Barriers was evaluated, the new Pilot Transport Testing Project (Changchun - Hunchun - Zarubino - Vladivostok - Donghae - Sakaiminato) was approved unanimously, and Yingkou city's application of LSC membership was approved passed. Participants also assessed the report on the outcome of the meetings with the Far Eastern Customs Directorate of Russia and Zarubino Port, based on which they exchanged ideas on what concrete follow-up actions could be pursued to sustain the positive dynamic.
After the meeting, participants visited Sakaiminato port to commemorate the celebration of 10th anniversary of commencement of DBS Ferry route.