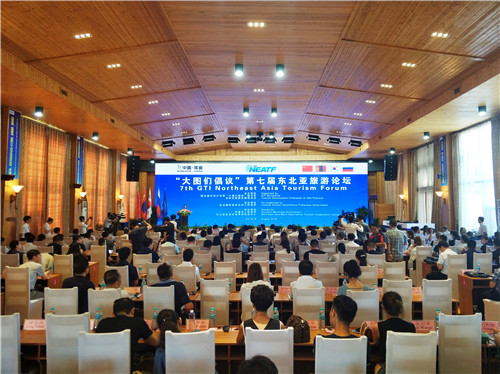 The 7th GTI NEA Tourism Forum was held on 3-4 August 2018, co-organized by the GTI Secretariat and Jilin Provincial Tourism Administration, Yanbian Korean Autonomous Prefecture Government and Hunchun Municipal Government. The welcoming speech was delivered by Mr. Jiang Zhiying, Member of Jinlin Provincial Committee and Director of Municipal Committee of CPC of Jilin Provincial Yanbian Korean Autonomous Prefecture, followed by opening remarks by Mr. Chen Shoujun, Deputy Director of Tourism Development Commission of Jilin Province, Mr. Tuguldur Baajiikhuu, Director of UNDP/GTI Secretariat, Ms. Vanessa Satur, Programme Manager of the UN World Tourism Organization (UNWTO) and Mr. Gao Yulong, Director of Municipal Committee of CPC of Hunchun City. The Forum under the theme "Corresponding to "The Belt and Road Initiative", Developing Multi-Destination Tourism to Build Northeast Asia Tourism Community" was followed by Training on Marketing of Tourism Destinations and Tourism Planning and a UNWTO Workshop.
During the opening remarks the Director of GTI Secretariat emphasized the role that GTI NEA Tourism Forum have played in development of tourism cooperation in the GTR. In the future, GTI would like to further raise the profile of the Forum, expand scale and scope of the event and make it the main event for GTI Tourism Board serving as an extension and practical implementation of policy discussions held among members of GTI. Following that line, this year, with support from UNWTO and GIZ, the German agency for international cooperation (Deutsche Gesellschaft für Internationale Zusammenarbeit), the Training on Marketing of Tourism Destinations and Tourism Planning and a UNWTO Workshop were organized as side events to the Forum, which would be practical undertaking in building capacity of GTI tourism stakeholders in tourism marketing and promotion of GTI region as a tourism destination.
Mr. B. Tuguldur stated that the cross-border tourism product opportunities are well-recognized by the GTI member countries and they agreed on encouraging a broad range of product development initiatives, especially multi-destination tourism (MDT) as the main strategic objectives for tourism. For promotion of MDT concept, a number of issues should be addressed, such as the lack of comprehensive marketing strategy for the region and absence of unified regional statistical and information database and promotional platform to advertise GTI region both for domestic and international tourists and for businesses. In the future work, GTI should address these challenges, using the experience and expertise of other international organizations and partners such as UNWTO, GIZ, Mekong Tourism Coordination Office (MTCO) and others.
The Forum went over in 5 sessions with participants' presentations.
The first session was devoted to the Cross-Border Multi-Destination Tourism Development in NEA. The key-note speaker of this session Ms. Vanessa Satur (UNWTO) gave an overview of the Tourism Development Trends in NEA and stressed both advantages and challenges of the NEA's tourism.
Programme Officer of GTI Secretariat Mr. Sergey Khidirov briefed on the current activities and prospects of cooperation under GTI, i.e. participation of GTI member countries at the XXII Pacific International Tourism Exhibition (18-20 May, Vladivostok) under the "GTI logo", partnership with UNWTO and GIZ in organizing the training programme, proposals for establishment of a web-based collaborative platform for social commerce and multi-level exchange for promotion of tourism products and tourism destinations in the region as well as proposal from Primorsky Territory to organize a familiarization tour to Vladivostok for tour operators from China, Mongolia and Republic of Korea.
Programme Manager from GIZ, Mr. Florian Miss, shared GIZ's approaches and best practices of tourism planning in development cooperation and briefed about partnership with GTI, such as GIZ's support to GTI's past study projects in Tourism Sector and support to this year's UNWTO training.
The Director of the Research Center of Tourism Economy and Policy of China of the Beijing Union University Mr. Zheng Bowei introduced suggestions for formats of cooperation for cross-border tourism in the region, followed by Ms. Nadezhda Udovenko from Tourism Department of Primorsky Territory who presented the priorities of state policy in the sphere of development of cross-border tourism in Primorsky Territory.
A separate session 2 was organized to discuss the Multi-Destination Tourism Products in NEA: Best Practices and Suggestions for the Future. Mr. Jens Thraenhart, Executive Director of the Mekong Tourism Coordination Office (MTCO), showcased the social collaborative platform "Mekong Moments" which has been successfully launched and introduced a proposal for GTI on establishment of a similar platform for the Greater Tumen Region. Representatives from Chinese Academy of Social Sciences, Silk Road Programme of UNWTO, Ministry of Environment and Tourism of Mongolia, Tourist Information Center of Primorsky Territory and Khasan Municipal District Administration shared the best practices and cases for multi-destination travel routes. The General Manager of Yanji Airport Company also gave his suggestion to the development of new multi-destination routes.
During Session 3 speakers shared ideas and initiatives on the development and promotion of international sea routes in Northeast Asia. Both Professor of Sungshin University of Korea and the Vice CEO of "Vladivostok Sea Terminal" company elaborated on the strategies, policies and concrete proposals for the development of sea tourism routes in Northeast Asia.
The fourth session mainly focused on the effective transformation and implementation of the academic achievements. Representatives from National University of Mongolia and Vladivostok State University of Economics and Service shared their ideas on how to transform the academic findings into intellectual support for the realization of the multi-destination tourism concept in Northeast Asia.
In Session 5, Cross-Border Self-driving Tourism was discussed. Director of the Exit and Entry Administration Department of Jilin Provincial Public Security Bureau, General Manager of Yanbian Far East International Tourism Co. Ltd., General Manager of Changchun Culture International Travel Service Co., Ltd. and General Manager of Yanbian Holiday International Travel Service Co., Ltd. shared their experiences and presented project ideas and initiatives for cross-border self-driving tourism development.
Established by the decision of GTI member countries the GTI NEA Tourism Forum successfully promotes the potential of GTI tourism and provides comprehensive exchanges on how to solve existing problems and bottlenecks in tourism development, contributing to further sustainable socio-economic development since its first meeting in 2012.