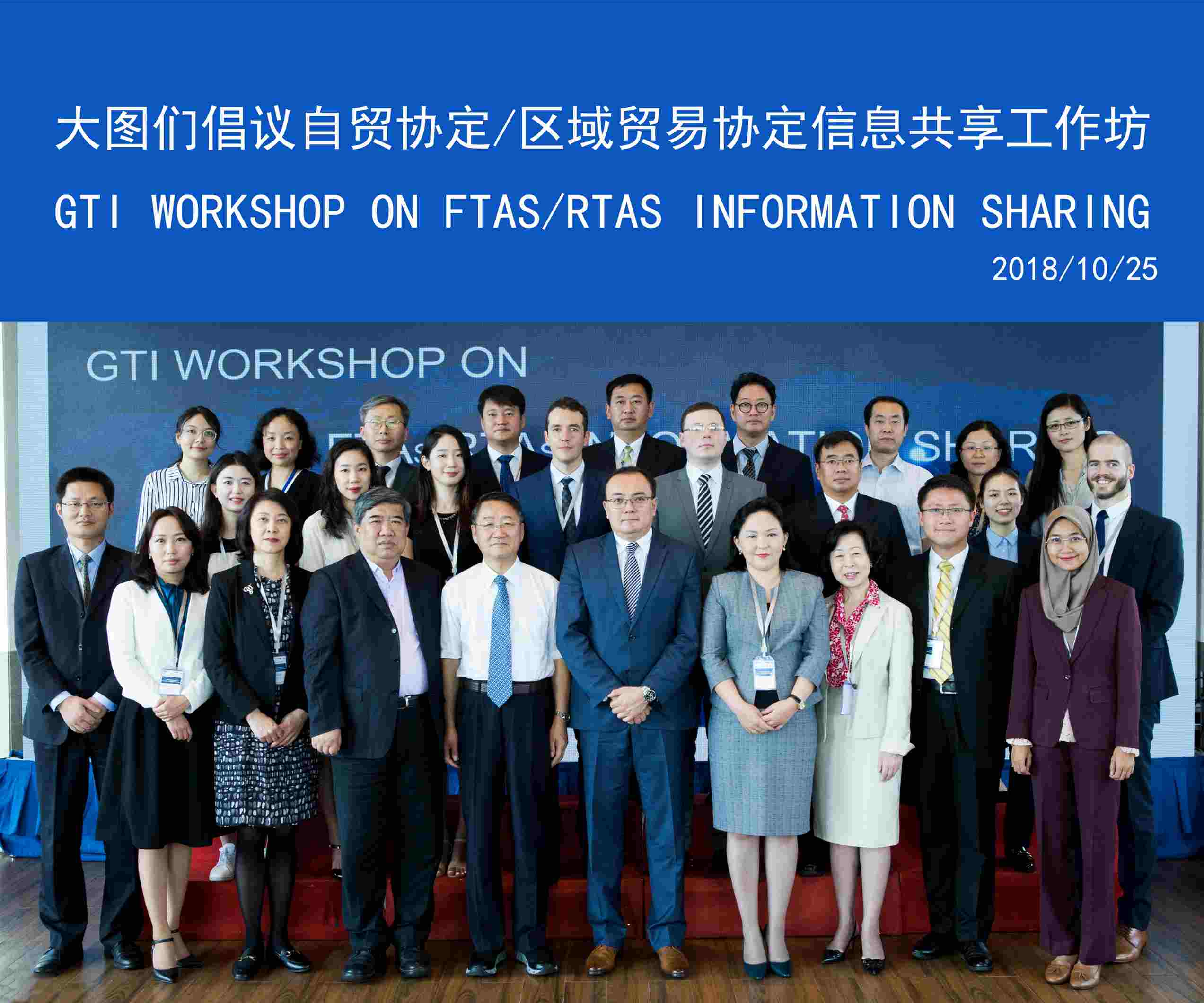 GTI Workshop on FTAs/RTAs Information Sharing was held on 25th October 2018, Boao, Hainan, China, co-organized by the Ministry of Commerce of China (MOFCOM), the China Association of International Trade (CAIT) and the GTI Secretariat. This workshop discussed each member countries' policies on FTAs/RTAs and shared lessons from their experience. Moreover, participants from international organizations (UNESCAP, GIZ), non-member countries (Japan, and Malaysia), and academia took part in this workshop to share experience and insight on regional integration including FTAs/RTAs issues.
GTI countries have signed 47 FTAs/RTAs with global trading partners, where among member countries China and Korea have engaged in free trade agreement. These arrangements strongly support the growth in regional trade and economic development. However, development of free trade arrangements in Northeast Asia (NEA) is still at the initial stage. There is no regional agreement where, for the NEA region as a whole, the only bilateral agreements are China-Korea FTA and Japan-Mongolia Economic Partnership Agreement. Currently, while protectionism may increase uncertainty in the global economy, participants concurred with the opinion that it was the right time to discuss FTAs/RTAs issues in the NEA.
During the workshop, experts while putting forward various ideas to improve the NEA regional integration discussed the role of FTAs/RTAs. For example, GTI member countries may consider flexible, informal and consensual approaches benchmarking the Association of Southeast Asian Nations (ASEAN), and the Asia-Pacific Trade Agreement (APTA) because trade and investment are linked to other issues such as the economic environment and social issues.
The workshop gave insights to member countries' policies on regional integration including FTAs/RTAs and served as a good platform for further exchange and interaction between regional stakeholders who are engaged in trade and investment cooperation in NEA.