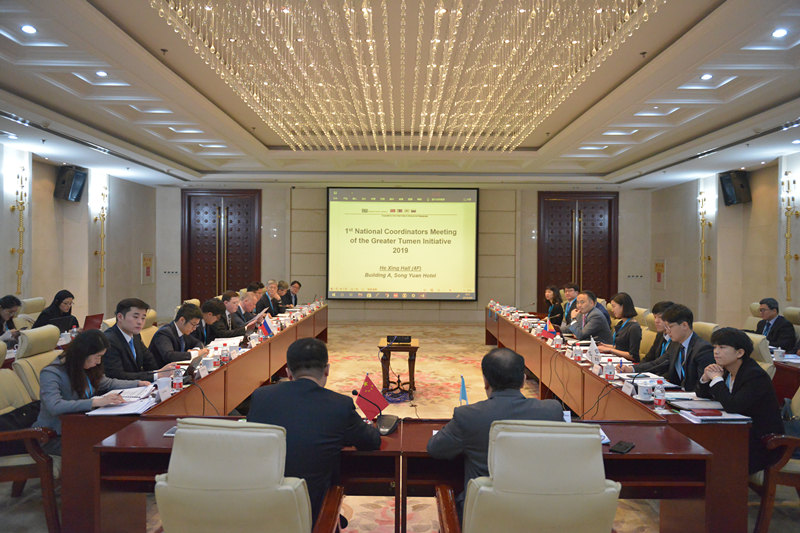 The 1st National Coordinators (NC) Meeting of 2019 was successfully held on 9 April in Changchun, China, with the participation of delegations from Ministries of Foreign Affairs, research institutions and others.
The meeting reviewed progress on the preparation of 19th Consultative Commission (CC) meeting to be organized on 21-22 August in Changchun, China. This year, the CC meeting will be held back to back with 12th China-NEA EXPO and have 3 supporting dialogues for panel discussion.
Delegates reviewed the progress and future plan on creation of Northeast Asia Business Association (NEA BA), a platform to promote private sector collaboration, business dialogue, B-to-B and B-to-G exchange etc., supported by the national business organizations from member countries. GTI Knowledge Management (KM) Concept Paper was introduced by the Secretariat, as an initiative by the Secretariat to improve institutional capacity for information and knowledge management.
To bring the intergovernmental discussion on the legal transition to the next level, a special session for the joint meeting with Ministries of Foreign Affairs of member states was organized. Representatives shared their vision on GTI further development emphasizing project development and up-scaling of the institutional development.
NCs noted with satisfaction on the overall progress of GTI since the last CC meeting in June 2018 as well as the next steps for ongoing activities and reviewed the 2018 expenditure and 2019 budget proposal. The documents on two projects - Terms of Reference of "Research Institution Network Joint Research on the Regional Value Chains in Greater Tumen Region", and proposal on "Prospect of Trade & Investment Cooperation in Greater Tumen Region" were presented and endorsed for further action. In addition, the concept note on "Cooperation in the Education Sphere on a base of the FEFU's Master's Program "Transport and Spatial Logistics" was also reviewed.