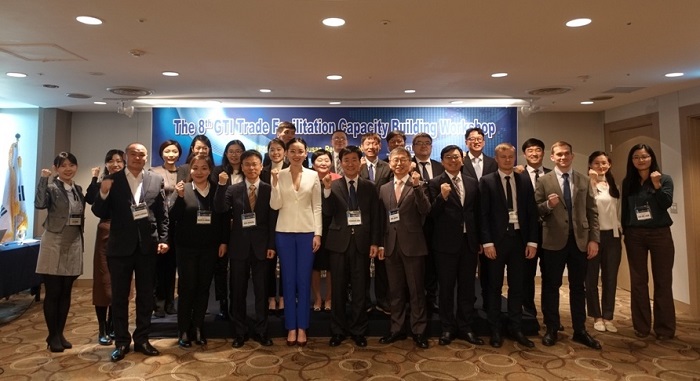 The 8th GTI Trade Facilitation Workshop was held on 19-21 November 2019 in Busan, Korea. The customs officials and relevant government officials from the GTI Member States, and experts from line ministries and international organizations took part in the workshop.
The GTI Trade Facilitation Workshop has been hosted and organized by the Korea Customs Service in cooperation with the GTI Secretariat since 2012. The workshop aims at facilitating trade in the Northeast Asia (NEA) through knowledge and experience sharing among relevant stakeholders including government officials, experts, private sector and academia.
This year, the workshop was organized to exchange information and policy on Authorized Economic Operator (AEO) Programs and Mutual Recognition Agreements (MRAs) status. Customs officials from member countries introduced the AEO programs and the current status of the MRAs in each country, shared the challenges and benefits of the development of AEO programs. The advanced technology and systems used on AEO programs in Korea and China were introduced at the workshop. Participants shared their insights and lessons learned from the practices and provided policy experiences and recommendations for the GTI Member States.
From the GTI Secretariat, Mr. Kim Jaeshin (Senior Advisor) conveyed his appreciation to all participants for their active participation and called for more cooperation on experience sharing on development of AEO programs in GTI Member States. And the current status of Multilateral AEO MRAs in NEA region was introduced by the Secretariat. Ms. Ru Yue (Finance and Admin Associate) briefly presented the background of GTI and NEA regional cooperation, the intra-trade in NEA region, and the progress of the GTI activities in the trade and investment sector.